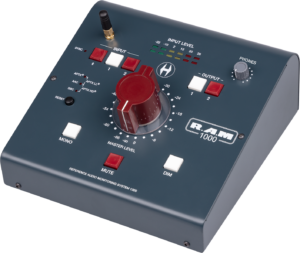 Introducing the new Heritage Audio RAMSYSTEM1000
THE PERFECT SOLUTION FOR SELF RECORDING MUSICIANS AND MID-SIZED STUDIOS 
With the RAM1000 you´ll have everything you need to control what you hear right at your fingertips. The new addition to our family of monitor controllers could not be easier to navigate. Things are kept simple to make sure they don´t get in the way of your creativity. 
Operation is intuitive with 3 selectable input buttons to the left and 2 output buttons to the right with a huge, beautiful Marconi type knob dead center to make sure you always control exactly what you want. The addition of the ubiquitous MUTE, DIM and MONO keep those options within reach. There has also been a high-quality headphone output included for when you need to make a critical listening decision that only headphone monitor can offer. 
Bluetooth has basically become a standard within studios around the world in the last few years. Therefore, it was an easy call to make sure that the RAM1000 was also prepared to provide it as well as including all latest CODEC options to ensure the highest quality transmission possible.  
There is even an option to switch the routing from OUTPUT 1 to your soundcard/interface for recording…. This will make it easy to plug in an instrument to rehearse along to a mix and when ready, simply route it on to your recording device. 
The perfect option for self-recording musicians and mid-sized studios.

 

Inputs & Outputs simultaneously selectable for maximum flexibility.

 

Play along with Bluetooth streaming and/or DAW tracks.

 

Uncompromised sound quality & built to last.

 

Compatible with all the latest CODECS