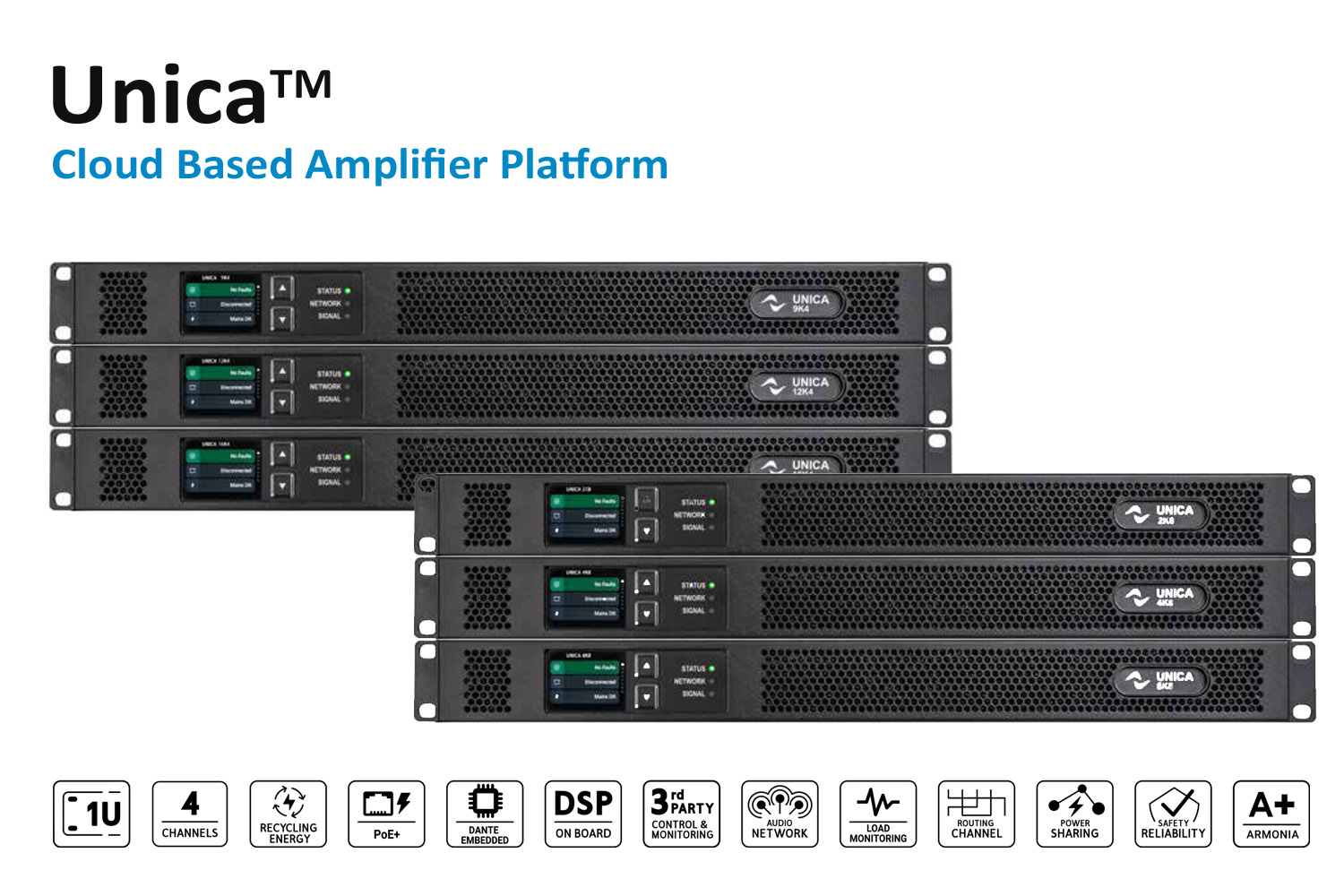 Powersoft Unica Series Power Amplifiers
Introducing the all new Powersoft Unica Series is a compact, 1RU amplifier platform developed primarily for installed applications. The 4-channel version includes 9kW, 12kW, and 16kW and 8-channel version includes 2kW, 4kW, and 8kW total power models, making Unica one of the most power-dense solutions available.
Unica represents the next generation of cloud-based amplifier platforms featuring high power density, top-shelf sound quality, and class-leading efficiency, designed to fulfill the requirements of medium to large installations with a single product family, providing a consistent user experience.
The all-new power supply section takes efficiency and world-operability to higher heights, resulting in less power dispersed through wasted heat. These performances, coupled with a clever approach to heat management, allow a drastic reduction in fan noise.
Unica platform features Powersoft's next-generation DSP for state-of-the-art processing and audio performance. The three 1Gb Ethernet ports, along with the native Dante and AES67 support allow for different network topologies including daisy-chain and Dante redundant. The front panel display allows quick access to the amplifier operating status information for local monitoring. The PoE (Power over Ethernet) input allows for short recovery time in case of mains loss, as well as testing and monitoring loudspeakers 24/7 without the need for mains power.
Thanks to a firmware-level protocol, audio over IP is managed through both Dante and AES67 protocols, and networking is achieved through 3 ethernet ports, allowing both Dante redundancy and splitting control vs AoIP traffic.
Enhanced Power Sharing capabilities have been developed for the output section, with each output channel capable of delivering up to twice the power when loaded asymmetrically. The output channels can drive Lo-Z and 70/100V lines seamlessly, delivering up to 5200W @ 4Ω for the 16kW model, when asymmetrically loaded. The power supply allows worldwide operation (100-240VAC), and it is equipped with the latest generation of single-stage power factor correction (PFC). The proprietary Smart Rails Management (SRM) allows the supply rails to adapt in real time to the required output voltage to maximize efficiency and reduce idle losses.
Unica also represents a significant milestone in Powersoft's development of IoT devices with cloud-native connectivity and remote monitoring functions without needing specific product registration or configuration.
Cloud integration allows storing and sharing projects online, keeping the amplifier's firmware up to date, or may be used for simple integration in third-party systems through API. Unica Series amplifiers natively support this new cloud connectivity for remote monitoring and control from any device anywhere in the world via Universo, the Powersoft cloud platform interface.