Hitmaker Expansion Update - Hitmaker Expansion 3.0 - the latest update to our Hitmaker Expansion bundle, now including the legendary Native Instruments® MASSIVE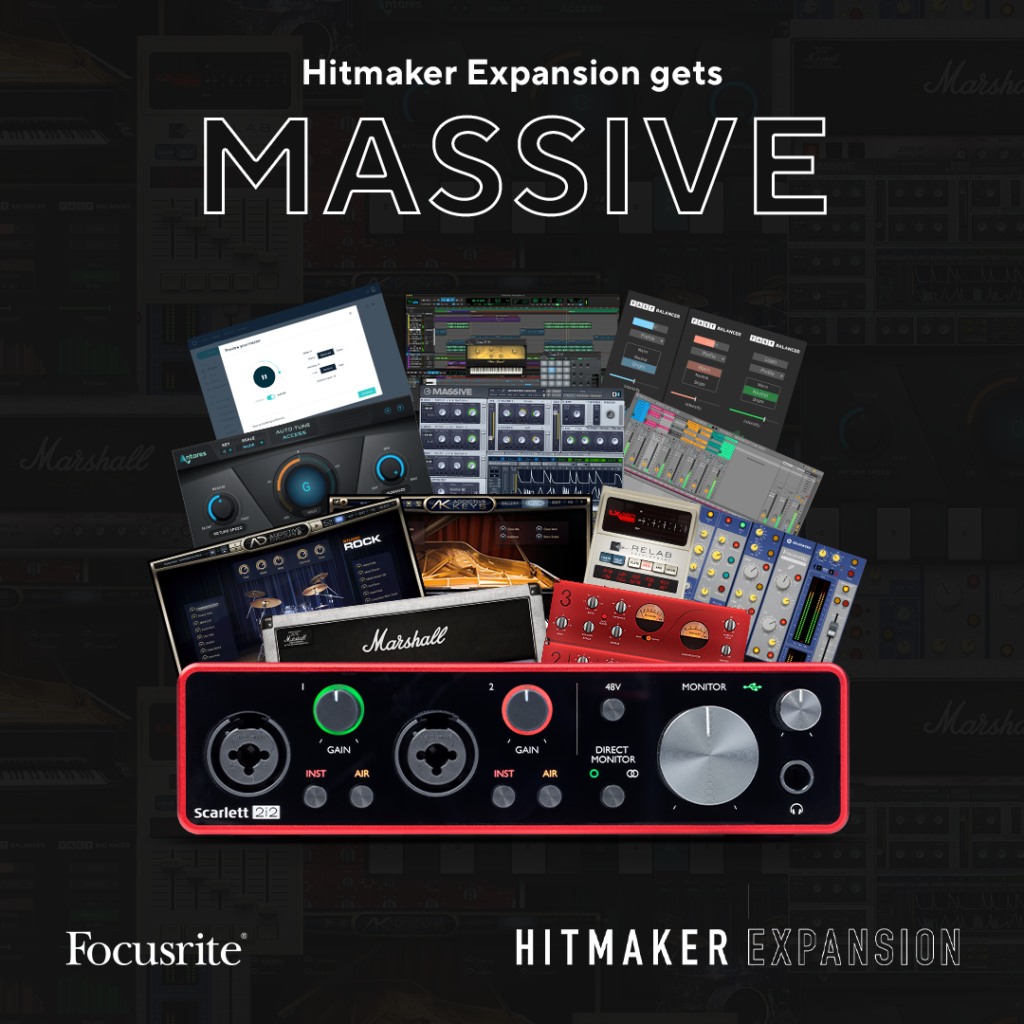 Focusrite Hitmaker Expansion 3.0 – The MASSIVE Update
Hitmaker Expansion is carefully curated to give music makers a great selection of software whether they're just getting started, or already on their journey. Whether it's a Solo or 2i2 customer looking to get great guitar and vocal sounds, or an 18i20 customer who wants powerful production plugins – Hitmaker Expansion has our customers covered.
We continually evaluate usage and redemption of the plugins offered to Focusrite customers and we're excited to reveal that Native Instruments® is joining the Hitmaker Expansion roster with their legendary MASSIVE synth, bringing a huge range of dramatic synth sounds and over 1,300 presets. MASSIVE was previously included in the Plugin Collective and was a huge hit, so its inclusion here is sure to generate demand.
Also joining the Hitmaker Expansion bundle is our own FAST Balancer. This popular plugin uses powerful AI to instantly improve a busy mix, with simple but effective controls.
Hitmaker Expansion 3.0 Changes
Native Instruments® MASSIVE now included
FAST Balancer now included
All the other great plugins remain as is. Full content list:
Native Instruments® MASSIVE
FAST Balancer
Antares® Auto-Tune® Access
Brainworx bx_console Focusrite SC
Focusrite Red 2 & 3 Plug-in Suite
Relab LX480 Essentials
Softube® Marshall® Silver Jubilee 2555
XLN Audio® Addictive Keys
XLN Audio® Addictive Drums 2: Studio Rock Kit
Hitmaker Expansion is included with all Scarlett 4th Gen, Clarett+ and Red interfaces.