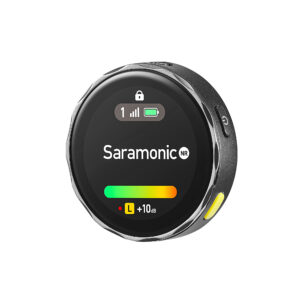 Introducing the Blink Me Two-Person Smart Wireless Mic System w/ Touchscreen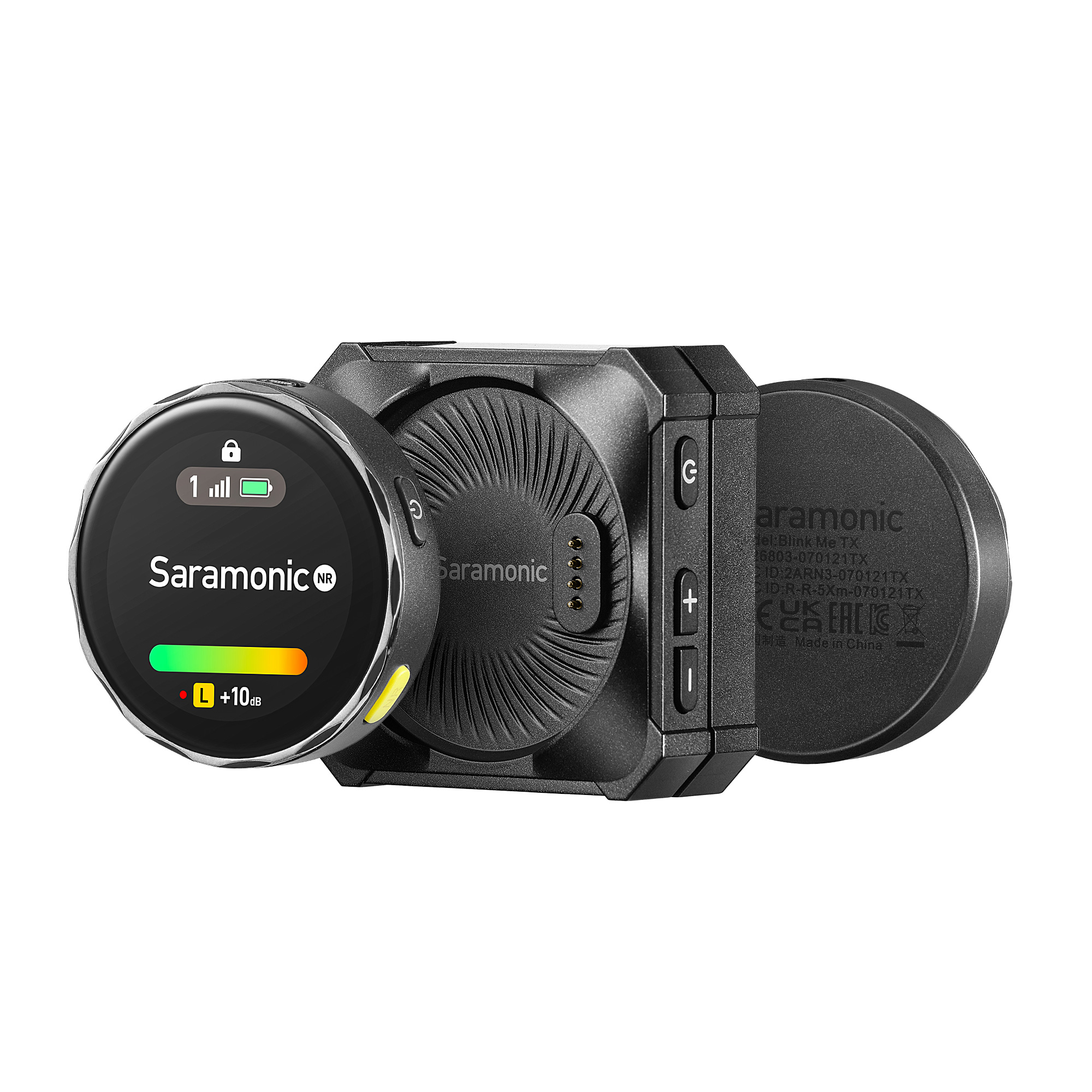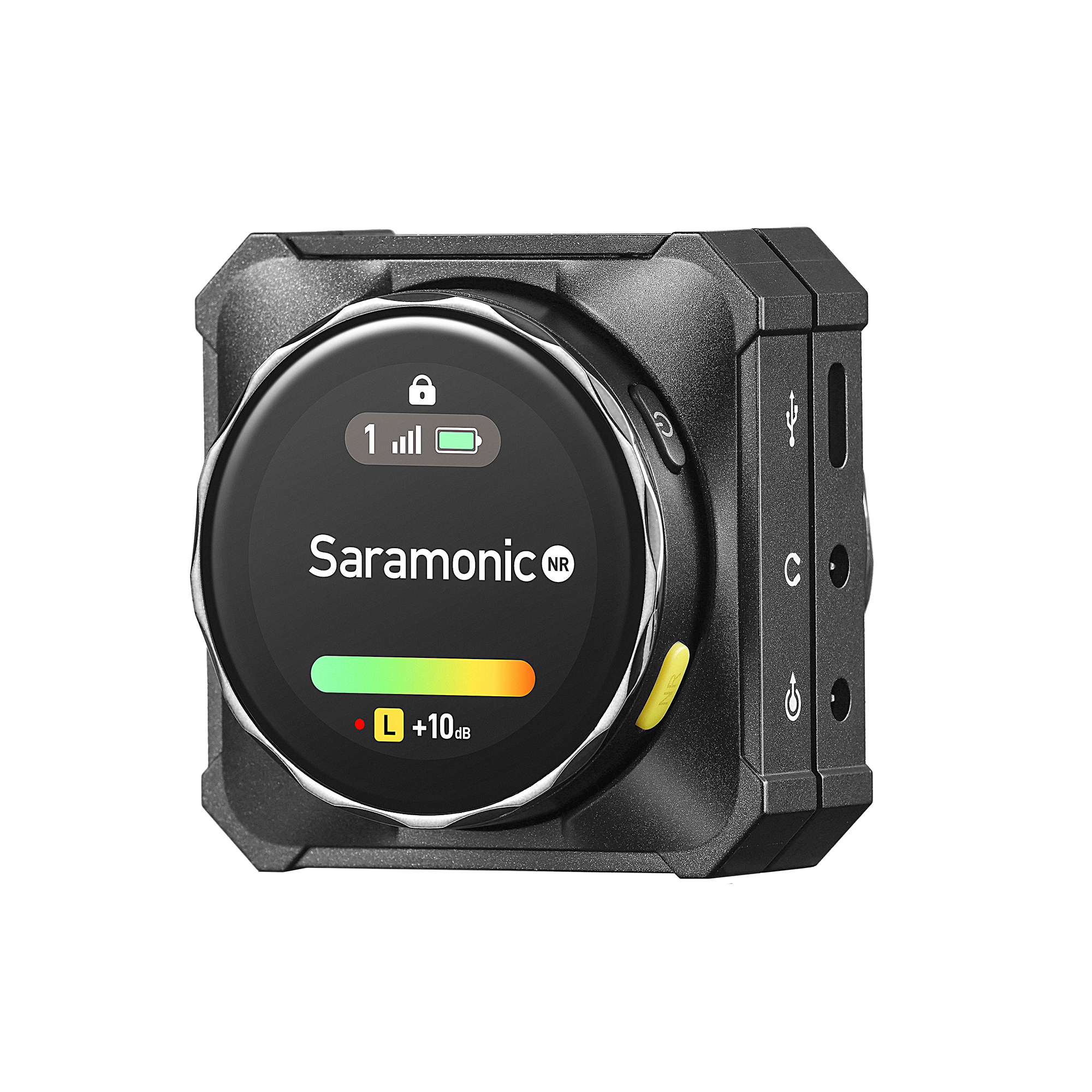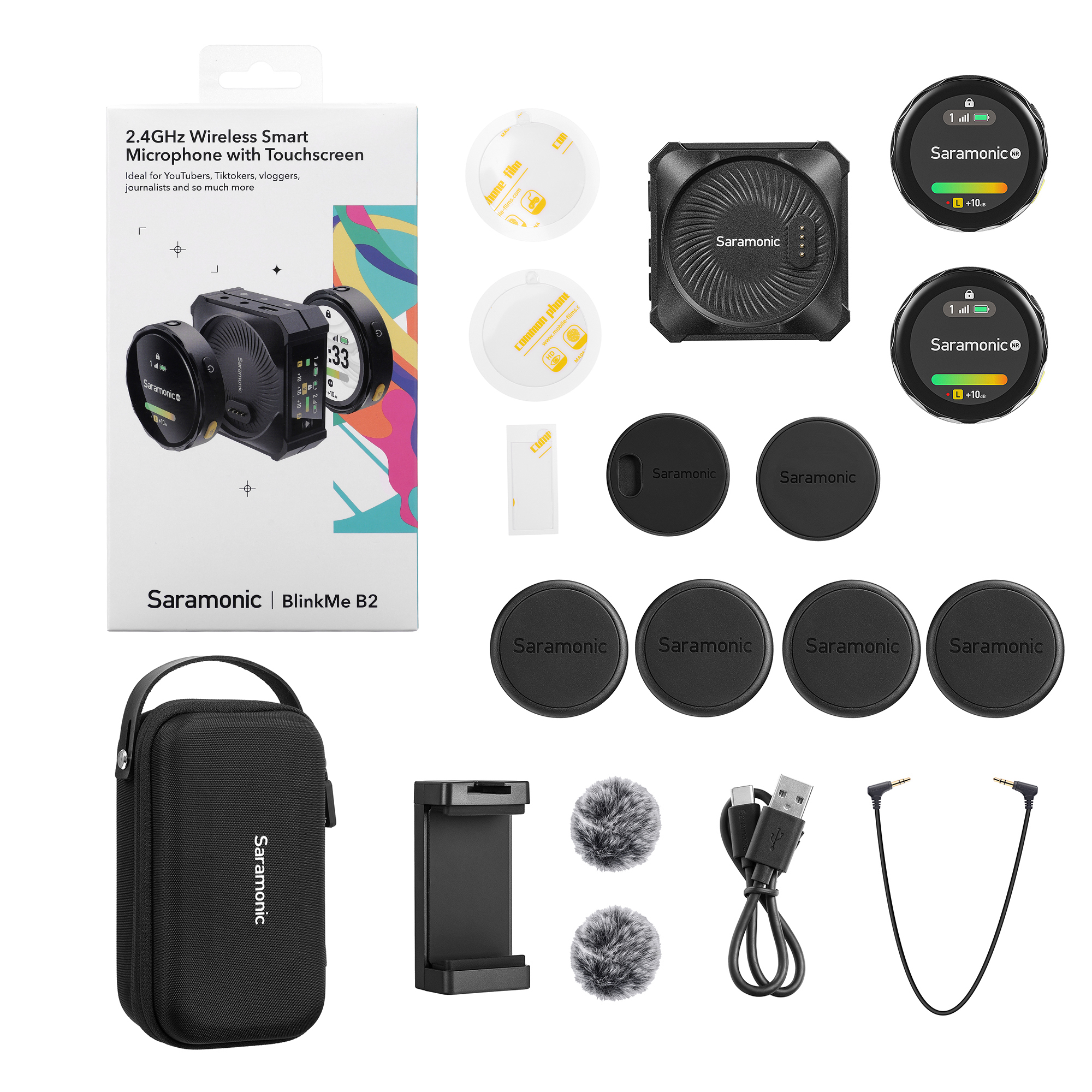 The Saramonic Blink Me is a next-generation, 2-person clip-on smart wireless microphone system that delivers high-quality sound to 3.5mm and USB-C input cameras, smartphones, computers, recorders, mixers and much more. Its two touchscreen microphone transmitters with built-in omnidirectional mics feature high-definition onboard recording, active noise-cancellation, a customizable user interface screen, and settings control. It also features a dual-channel receiver with advanced control functionality for both the receiver and transmitters, simultaneous analog and digital audio output, headphone out, and much more. The system is paired with an exclusive App for even more control, and customization features, plus video and audio recording.
Versatile Transmitters with High-Resolution Recording & Ultra-Clean Sound Built In
The Blink Me transmitters are compact and lightweight but are packed with features. They feature a built-in omni mic with digital gain control, muting, and include a furry windscreen. The transmitters also feature up to 22-hrs of multi-mode onboard recording with resolution of up to 24bit/48kHz, ensuring you never miss a recording due to signal drop-out and even let you record audio without the receiver entirely. The TX transmitters also feature an HD Active Noise-Cancelation function that delivers an ultra-low noise recording, focusing on the subject's voice and eliminating background noise.
Customizable Touchscreen Interface: Designed for Creators Who Want to Make a Statement
The Blink Me features a touchscreen interface that gives users easy access to settings, allowing users to make quick changes to the transmitters' performance. It also features a unique customizable UI wallpaper (via the App), ideal for those creators who want to make a visual statement. This allows you to display your company's logo, social media handle, web address, your art, or even pictures or your loved ones and pets. This standout feature sets the Blink Me apart from other wireless systems and allows you to creatively standout in all your content.
Remarkably Flexible & Ingenious Touchscreen Dual Receiver
The Blink Me system includes a remarkable dual camera-mountable touchscreen receiver, so much so it was patented. It features a magnetic cold shoe mount that allows you to mount it on top of a camera, or smartphone with the included tripod phone holder. The receiver charges the transmitters when magnetically connected in between shoots or when you are charging the receiver. It features full-featured touchscreen allows you to control the receiver's setting and control all the transmitters' settings remotely. The receiver also features 3 output setting: Mono allowing you to record the mics mixed, Stereo separating the mics to left and right output, or Safety Mono mixing the mics with a full signal on the left and a -6dB safety track on the right.
Simultaneous 3.5mm & USB-C Audio Outputs for Cameras, Mobile, and Much More, with Headphone Out
The Blink Me receiver features an autosensing 3.5mm output with a TRRS output cable, allowing you to plug it into any 3.5mm device and it will automatically detect if it is TRS or TRRS. It also features a stereo USB-C digital output allowing you to connect it to USB-C smartphones, tablets, computers, and more. Pair it with an Apple USB to Lighting adapter for compatibility with iPhones and iPads with Lighting. And the best part is that you can record from the 3.5mm and USB-C outputs simultaneously, allowing you to record to multiple devices at the same time. It also features a 3.5mm headphone output for real-time monitoring, vital for recording into devices that lack a headphone output.
App for Advanced Control, Customization, Video / Audio Recording, & Much More
The Blink Me takes control and customization to the next level with the Saramonic App. Adding the Saramonic App allows you to customize the transmitters' UI to feature a new theme or add your logo or picture. It also gives you control over the transmitter button functions, allowing you to change what the transmitters' buttons do to optimize your production workflow. It also includes the Saramonic SmartRecorder built-in, giving you free full featured video and audio recording apps, an ideal app recorder for the Blink Me and other microphones. Both feature gain control, low-cut filters, noise-reduction, voice enhance, and much more.
BlinkMe-B2 Package Includes
2 x Customizable Touch Screen Transmitter (TX)
1 x Touch Screen Receiver (RX)
1 x Magnetic Shoe-Mount Adapter with ¼-20 Thread
2 x Magnetic Transmitter Clip
4 x Magnetic Mounts
2 x Screw-On Furry Windshield for Transmitters
1 x MVC Adjustable Phone Holder with Cold Shoe Mount and ¼-20 Tripod Mount
1 x TRRS to TRRS Audio Output Cable
2 x Screen Protector for Transmitters
1 x Screen Protector for Receiver
1 x Clamshell Padded Carry Case